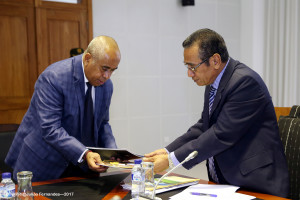 The Minister of State, Coordinator of Economic Affairs (MECAE) and Minister of Agriculture and Fisheries (MAP), Estanislau Aleixo da Silva met with the President of the Republic, Francisco Guterres Lú Olo, to advise on the work carried out by his offices during the last two and a half years.
In a meeting held at the Presidential Palace, on July 7th, the Minister first explained the links between MECAE's Office and the services and institutions under his coordination. It is an extensive ministry, covering areas and sectors like Agriculture, Fisheries, Tourism, Manufacturing, Mining, Civil Aviation, and Business Environment, among others. The interventions in all of them fit into the overall objective of the Government of reducing the dependence on revenues from oil and gas.
The Minister highlighted the writing and reviewing of legislation related to economic activities, in particular the Company Law and the Private Investment Law. There was also a great effort from the Government to have Timor-Leste join the World Trade Organization (WTO), with a submission of a Memorandum on Foreign Trade to the Director-General of the WTO, which enables Timor-Leste to commence negotiations for accession to this multilateral trade organization. Timor-Leste was granted observer status of the WTO in December 2016. edit 3
The MECAE-MAF also informed the President of the Republic about coordination with the Ministry of Foreign Affairs and Cooperation regarding the process of Timor-Leste's accession to the Association of Southeast Asian Nations (ASEAN).
Regarding the Ministry of Agriculture and Fisheries he highlighted the legal texts drafted and approved. He also advised on the activities performed in the last two and a half years, such as the planting of sandalwood and teak, the rehabilitation of coffee plantations in the Municipalities of Ermera and Liquiçá, and the development of aquaculture, with support given to small groups of beneficiaries through State subsidies supporting tilapia farming.
He ended emphasizing the support given to the rehabilitation of irrigation system in places such as Oebaba in Covalima, Raibere in Ainaro, Caraulun in Manufahi, Larisula in Baucau and Buluto in Laleia.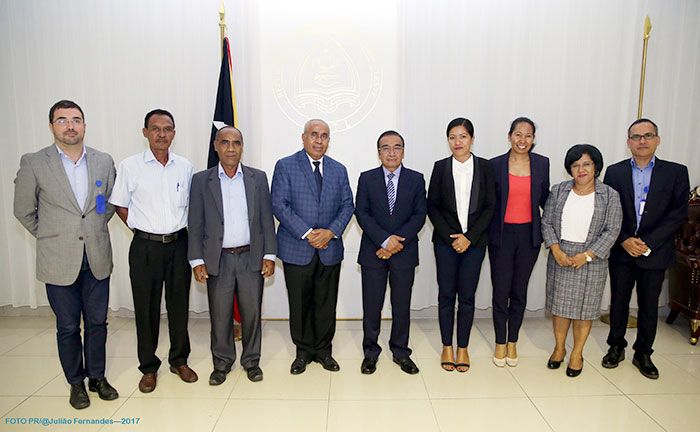 Photos available at: http://timor-leste.gov.tl/?p=18411&n=1&lang=en