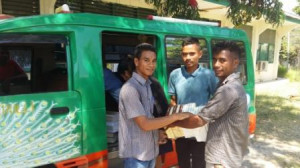 The Civil Society Support Office under the Prime Minister's Office has offered close to 78,000 books in Portuguese, to institutions, organizations, libraries, universities and other public and private education institutions and museums throughout the country.
The books, donated to Timor-Leste by the Portuguese National Mint, were distributed between the 6th of September and 6th of October at the premises of the Timor-Leste Non-Governmental Organizations Forum (FONGTIL), to about 130 entities. The offer also extended to the general public, where the organization distributed books to more than 300 individuals, especially students.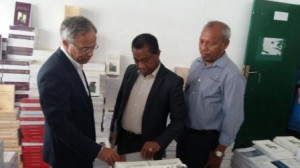 Joaquim da Costa Freitas, Coordinator of the Civil Society Support Office under the Prime Minister's Office, highlighted the "immense interest, happiness and the fondness of enjoying books. Many people referred that otherwise they would have no chance of having them. It was a very gratifying and unforgettable experience!"
The Coordinator of the Office of Civil Society Support of the Office of the Prime Minister thanked the public for their adherence to this initiative and the entities that supported the initiative, namely the Portuguese National Mint, the Portuguese Embassy, the Orient Foundation (in Portuguese "Fundação Oriente"), the Haburas Foundation, FONGTIL, and the Legal Support Unit of the Presidency of the Council of Ministers.
Photos available at: http://timor-leste.gov.tl/?p=18900&n=1&lang=en